I try to travel as much as possible to learn about robotics worldwide and do interviews.
If you see that I will be coming to your neck of the woods, please get in touch and we can chat about robotics.
Do you organise or know about an event you think I should attend, please get in touch. All suggestions are appreciated.
Events with a ? after the date are not scheduled yet,
This schedule may change at any time.
2013
– ISO Standards meeting (ISO TC 184/SC 2/WG 8/Study Group on
Modularity) in San Francisco, USA January 27 to 31
– Innorobo in Lyon, France March 19-21
– European Robotics Forum in Lyon, France March 19-21
– RoboBusiness Europe in Genoa, Italy April 11-12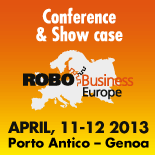 I  will moderate a panel discussion details TBA.
– Robotics Innovation Challenge Eskilstuna, Sweden April 25
– ICRA in Karlsruhe, Germany May 6-12
– ISO Meeting in Bristol, UK June 26
– RSS in Berlin, Germany June 24-28
– ISO Meeting in Beijing, China October 17
– RoboBusiness Leadership Summit Santa Clara, USA October 23-25
– IROS in Tokyo, Japan November 3-7
– EU robotics week November 25 to December 1
2014
– Schunk Expert Days
– 21th Annual Robotics Industry Forum
– HRI : ACM/IEEE International Conference on Human-Robot Interaction Bielefeld, Germany March 3
– Robotics Innovation Challenge
– Innorobo – Innovation Robotics Summit?
– European Robotics Forum?
– Automatica Munich, German May 22-23
– RoboBusiness Europe May 26-28 Billund Denmark
– ICRA Hong Kong, China May 31 — June 5, 2014,
– ISO Meeting  DTBA
– HOPE TEN, New York, USA?
– IROS Chicago, USA September 14-18
– RoboBusiness Leadership Summit?
– EU robotics week?
– ISO Meeting DTBA
2015
The basic structure will be like 2014 the rest is DTBA
The forloren past
2012
– Robotics Innovation Challenge in Eskilstuna, Sweden February 9,
Interviews in Eskilstuna
Paulo Dario on the Future of Robot Companions
Rodney Brooks on the future of robotics
– Tallinn, Estonia February 12-14
Interview with Maarja Kruusmaa on Robotic Fish and Mannequins
– Singapore February 19-22.
Interview with Matthias Kohler on Future Cities

Spoke on Self-reconfiguring modular robotics and its impact on achitecture and the society to faculty and students at SEC Singapore Future Cities Laboratory. (Video of the presentation to come)
– Sydney, Australia February 23 to May 9
Visisted Hackers and Dinos and Showed the Cubelets!
And we talked about the overhead of modularity very interesting
Interviews in Sydney, Australia
Mary-Anne Williams on Knowledge Engineering
Salah Sukkarieh on Field Robotics
Chris Chesher on Digital Cultures
Rob Saunders on Curious & Creative robots
– Hong Kong May 9-14.
Interview with Mark Tilden
– Visited the Dimsum Labs, The Hong Kong hacker Space! Showed the Cubelets!
– HOPE Number Nine, New York, USA July 13-15
Spoke on self reconfiguring Modular robotics titeled
"No Natural Resources Were Hurt Assembling This Sofa"
I was interviewed on Radio statler
Visited NYC resistor and Showed the Mobot from Barobo INC
Interview with Stephen Gorevan of Honeybee Robotics on Space Robotics.
– RoboBusiness Leadership Summit  Pittsburgh, USA October 22-24
Interviews in Pittsburgh
Dmitry Grishin on Grishin Robotics Fund
Ian Bernstein on Sphero
Mel Torrie on Autonomous Solutions
– RoboBusiness Europe think tank, Genoa, Italy 8-9 November.
– Moderated the RoboBusiness Europe think tank preparing to launch
Robobusiness in Europe. I hope to meet many robotics and startup
geeks in Genoa in 2013.
Interview with Renaud Champion on Robolution Capital
– ISO International Robot Components Workshop Beijing, China 29 November to December 2
Spook on Self reconfiguring modular robotcis and the importance
of standards for modules and robotics components
2011
Interview with Dr Martin Nilsson on Connectors & Modular Robots, SICS Stockholm, Sweden June 28.
– IROS , San Francisco, California 25-30 September
– Workshop, Reconfigurable Modular Robotics:
Challenges of Mechatronic and Bio-Chemo- Hybrid Systems
I was invited to join the Robots podcast team, and I was
delighted to start doing interviews for them, check out all
my interviews
Interview with Professor Radhika Nagpal on Self-Organizing Systems
– Edinburgh, UK November 20-22
Visited the Edinburgh Hacklab November 20, Showed the Cubelets!
Interviews in Edinburgh
Subramanian Ramamoorthy on Advances in Bipedal Locomotion for RobotsPodcast
Subramanian Ramamoorthy on The Transfer Problem for the Flexible Elements SRCMR podcast
David Lane on From Reasearch to Industry in the AUV Market
2010
– ICRA  Anchorage, Alaska May 3 – 8
Workshop, Modular robotics: state of the art
Launched the Flexible Elements podcast focusing on Self-reconfiguring modular robotics,
Interviews in Anchorage
Kasper Stoy on Self-Reconfigurable Robots
Michael Rubenstein on Managing Many Robots
Kyle Gilpin on Electropermanent Magnets
Zoltan Nagy on Self-Assembling Surgeons: Magnetic Connectors
Chih-Han Yu on Modules and Artificial Intelligence
Wei-Min Shen on Early Self-Reconfiguring Modular Robotics
Juan Gonzalez Gomez on Robotic Side-Winders Coming to a 3-D Printer Near You
Victor Kuo on Parallel Wireless Radio Communication Architecture
Andreas Lyder on Odin and Thor: Modular Robotics
Check them out here
2008
– IROS Nice, France September, 22-26
Workshop on Self-Reconfigurable Robots/Systems
and Applications
Launched this blog!